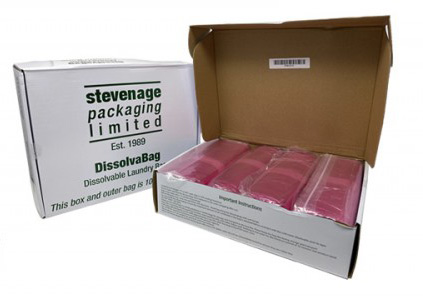 DissolvaBag Infection Control and Containment
Never has the need for effective infection control been more needed than with the current Coronavirus pandemic. DissolvaBag is a fully water-soluble laundry bag that dissolves in commercial washing machines and the industrial washing process. Made of a polyvinyl alcohol film (PVA) that dissolves at 60 degrees Celsius and is completely non-toxic and environmentally friendly this amazing product ensures that soiled and contaminated linen, towels and clothing can be safely transported and cleaned without increasing risk to healthcare and laundry staff.
Often referred to as Red Laundry Bags or Alginate Laundry Bags our DissolvaBags are supplied on rolls for ease of use and can also be used to line laundry carriers for safe transportation. We are an approved NHS supplier and supply hospitals and care homes around the UK, contact our team today to order your water soluble bags.