Our Founder
In 1989, Cambridge based Robert Stewart, aged 23 founded the award-winning, specialist global polythene supplier, Stevenage Packaging Limited.
Now in its 35th year, the company has demonstrated 34 years of consecutive net profit and sales growth whilst never making a redundancy, continuing to employ three generations of the Stewart family.
Under his leadership, Stevenage Packaging has won a number of regional awards: New Business Enterprise Award, Against All Odds Award, Employee of the Year Award, with Rob awarded Business Person of the Year Award.
He began his entrepreneurial journey in the extrusion & conversion of industrial polythene over three decades ago:
Through R&D work started in the 1980's he is recognised as a pioneer & engineer of eco-friendly, 100% recyclable thin film technology,
Has personally audited more than 160 different extrusion, print & conversion plants throughout the UK, mainland Europe, the Far East & the Americas - a global breadth and depth of experience unique within the industry.
Led proven rationalisation and standardisation application audits of polythene products through the UK in different market sectors using the latest technology from around the globe.
With the company is in its 4th decade, Rob oversees the global supply chain management and rapidly growing eight figure polythene and packaging annual spend.
Rob is also the owner of several other packaging companies he has acquired in recent years including an East Midlands based manufacturer of 100% recyclable polythene products for the food industry, medical and NHS sectors.
---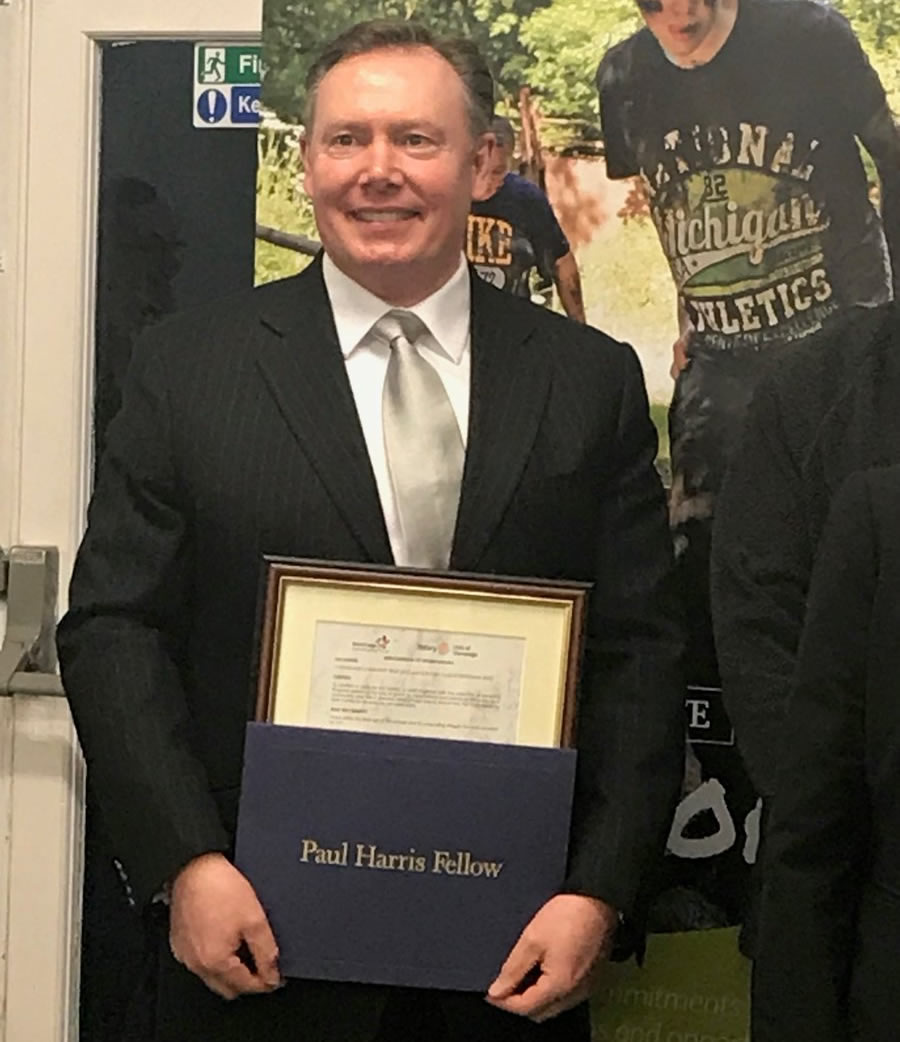 Receiving Paul Harris Fellowship award from The Rotary Club
Stevenage Packaging Ltd are founder members of The Stevenage Community Trust, established in 1990 to raise funds, promote charitable giving, enhancing the quality of life of people living in the Stevenage area.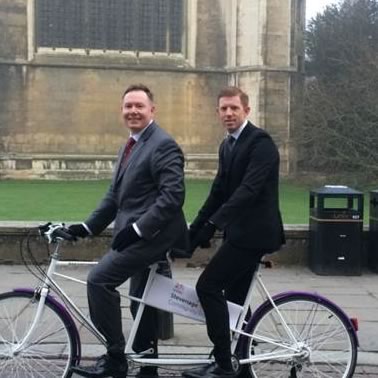 Rob spending his 50th birthday on a tandem raising £15,000 for the Stevenage Community Trust
As a founding member Rob has been an advocate and volunteer throughout the life of the Trust, a trustee for 19 years, is the current President succeeding Barry Norman CBE and Ken Follett CBE, and was their third Chairman from 2013-2023 preceded by Ken Follett CBE and the late Lord David Cobbold.
Rob founded the volunteer only charity Uniqueness in 2003 and has personally spoken to over 6,000 students and works on a one-to-one basis with, young, prolific and persistent offenders. Uniqueness has worked closely with the Princes Trust, YMCA and the Hertfordshire Police.
In 2018 Rob was recognised for his work in the community and awarded a Paul Harris Fellowship award from The Rotary Club - for 'Service above Self'. 150 are awarded each year by the Board of Rotary International. Recipients worldwide include President Jimmy Carter and Boris Yeltsin.
---
Former WBA Boxing world champion Barry McGuigan MBE
In the fitness sector, Rob founded Genetics Gymnasium Ltd in Stevenage in 1992. After a dynamic period of highly profitable growth he subsequently sold to Marco Goldschmied, business partner of Lord Richard Rogers in 1994.
Rob acquired Happy Mechanics Limited - a specialist accountancy practise in 2010. In its first year under his leadership, the company achieved 2,250% growth, making it one of the fastest growing companies in the UK in 2011.
Previously, under the brand of "The Differentiator", Rob coached and mentored a number of SMEs in True Customer Love, Differentiating Through Culture, Family Business Success, sharing his Inspirational Business Life Story.
He is also the founder and Managing Director of Trumpington Estates Limited specialising in office, warehousing, residential lettings, historic renovations and period new builds.
---
Former WBC Heavyweight Boxing world champion Frank Bruno MBE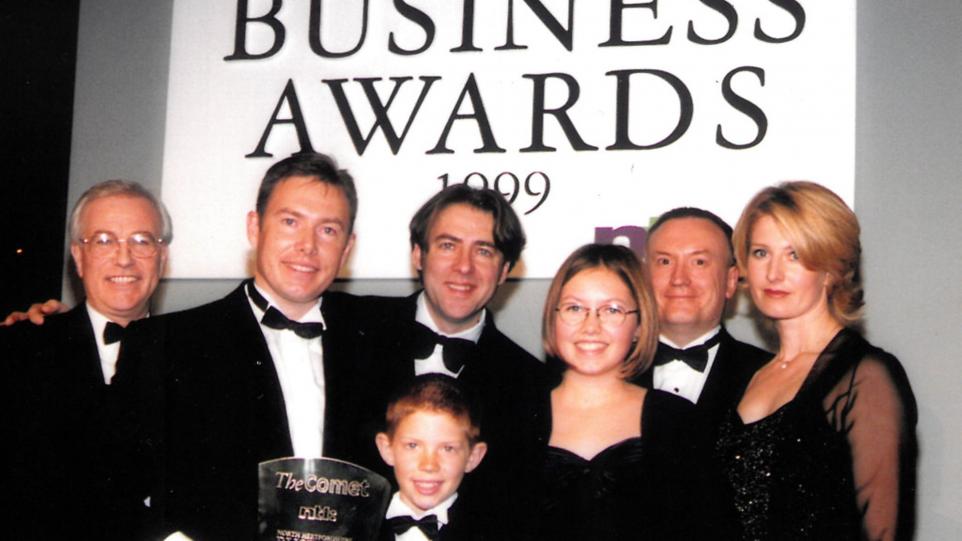 Collecting business award from Jonathan Ross in 1999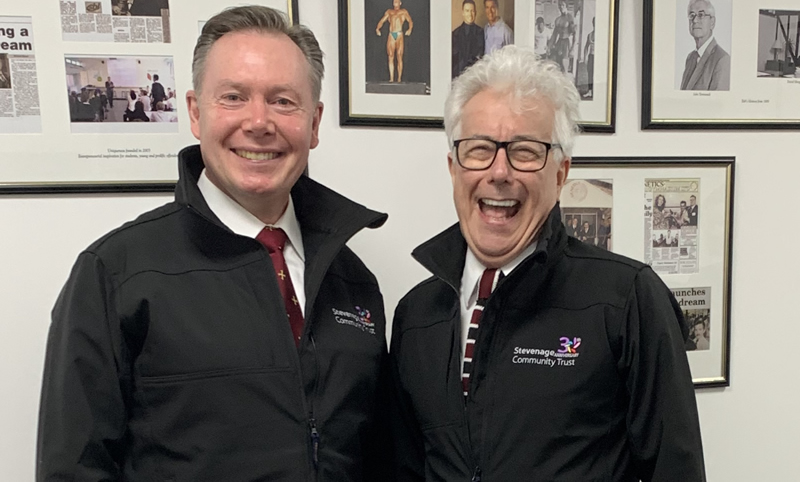 Former Trust President & best selling author Ken Follett, CBE, FRSL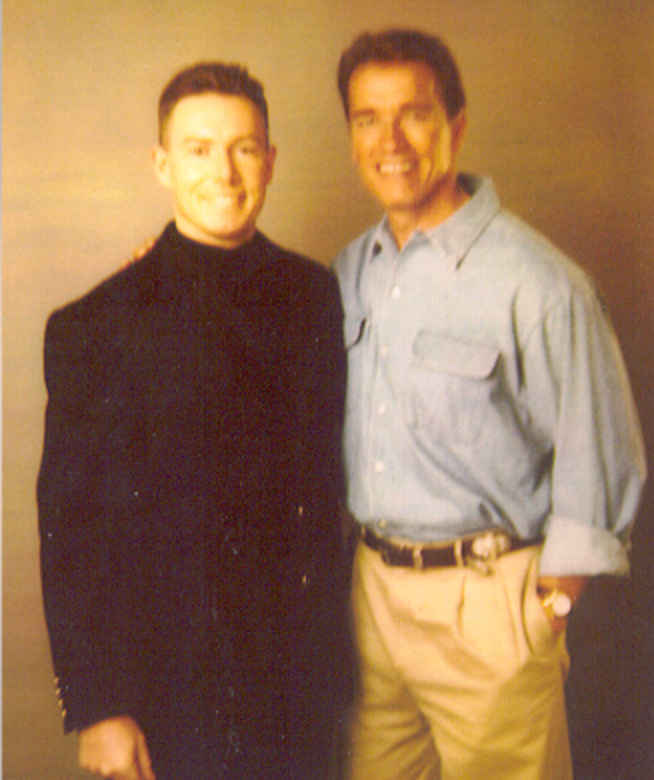 With Arnold Schwarzenegger
British Winter Olympian Eddie the Eagle
---
Stevenage Packaging Limited PLC Customer of 34 years standing
"Rob, you are operationally the best supplier of any product or service to our £1.2 billion PLC company."
Director of Procurement
Barclays Bank PLC
"I just wanted to thank you personally for giving up your valuable time at the Roadshow last Friday & for the very entertaining & motivating 'Rob Stewart Story'. The feedback has been fantastic."
The Princes Trust
"I am writing to thank you for presenting the major awards. The bucket story was inspirational."
Business Link Hertfordshire
"Rob is a true local entrepreneur, who inspires others through speaking about his experiences and dreams. He is passionate about what he does and shares the belief that the entrepreneurial spirit cuts across all cultures and faiths."
The Independent Opticians Annual Convention
"Rob Stewart, our keynote was inspirational, grasping the intricacies of a complex industry like optics and developing the sort of insight he did takes a special kind of skill. Doing that and holding an audience is pure genius. If you ever get the chance to hear Rob, take it."