PPE for Dentists
Your Dentist PPE Quick Buys
As more and more dentists reopen for business, our PPE stock ensures you can deliver your essential service while limiting the risk to your team and patients.
The recommendations for Dentists PPE include:
The use of surgical face masks for anyone unable to maintain a two metre distance from patients and other team members. These face masks should be changed if they become damp, soiled or if breathing becomes more difficult.
It is recommended that dentists provide alcohol based hand rub with a 60-80% alcohol content for all patients at the entrance, reception, waiting rooms, surgeries and other contact points.
Clinical teams should use alcohol based hand rub before putting on single use disposable gloves.
Clinical teams should also wear:
Single use disposable aprons
Fluid resistant surgical masks
Full face shields or visors
PPE should also be worn for cleaning all areas where patients and team members have been active.
Many of our products including aprons and visors are manufactured in the UK.
Our new disposable polythene gowns offer full-body coverage and are available in rolls of 50 in a handy box dispenser.
We also stock a range of safe distancing signs to help inform and encourage your patients to adhere to the 2-metre rule.
Below we have a selection of PPE available to order online, in stock for next day delivery.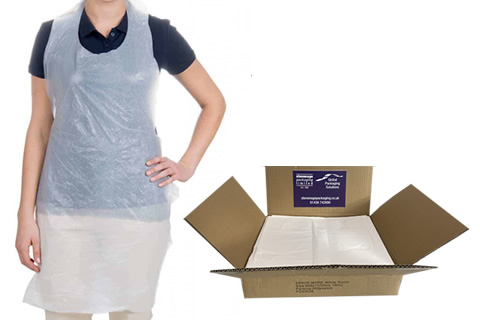 In Stock
Disposable Polythene Aprons
Product Ref: #1989001
✔ Get it Tuesday 5th December
✔ White tint
✔ NHS Supply Chain specification
✔ 686mm x 1170mm
✔ 16 micron
£5.95 inc VAT for 1 pack of 100
£25.00 inc VAT per box of 500 for 1-9 boxes
£19.95 inc VAT per box of 500 for 10 or more boxes
✔ Get it Tuesday 5th December
£5.95 inc VAT for 1 pack of 100
£25.00 inc VAT per box of 500 for 1-9 boxes
£19.95 inc VAT per box of 500 for 10 or more boxes